someone had to do it.
http://www.bit-tech.net/news/hardware/2013/05/01/water-cooled-raspberry-pi-computer-complete/1
Water-cooled Raspberry Pi computer completed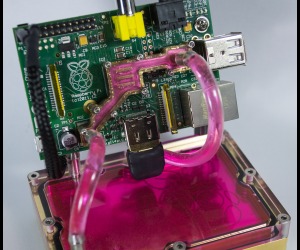 Phame's entry is just one of over a dozen to have been entered into our Raspberry Pi Case contest - voting starts in a few days.
Bit-tech modder Phame aka James Couzens has caused quite a stir in our forum with what we believe to be the world's first water-cooled Raspberry Pi.
Having been inspired by our recent
Raspberry Pi case contest
, James immediately hit on the idea to water-cool this tiny computer and proceeded to create his own water-cooling system for it, complete with miniature pump and waterblock.
The project was completed this week and his project log has notched up nearly 60,000 hits in our forum since it began in mid-February. It's one of over a dozen entries to the competition, which required modders to create their own case for the Raspberry Pi using any material and design.
The Raspberry Pi barely generates any heat, never mind enough to warrant water cooling. However, overkill is something many PC enthusiasts and modders take in their strides and often apply in generous measures.
It doesn't always have to involve obscene amounts of money. Just by doing something because you can, rather than because you should can often lead to interesting results and James' project is the epitome of this.
Click to enlarge
You can see more of James' project
in our forum
and both it and the rest of the fantastic entrants will go head to head in the voting stage later this week.
What do you think of James' project? Let us know in the forum.